She comes from a good family. She's the cool and glamorous girl from 'Studio 21' and, therefore, the perfect girlfriend for Leon. She is quite a diva, but she's also a lying, manipulative and arrogant character. She's obsessed with her image and always wants to be the centre of attention, specially at 'Studio 21'. She always gets what she wants because she is a spoilt and cruel person.
Despite being completely different from Tomas, she is attracted to him. Tomas ignores her because he's in love with Violetta and Ludmila gets obsessive and jealous. She sees an enemy in Violetta because her talent and natural beauty can outshine her..
Like every villain, she's got a follower: Naty.
Ludmila Ferro is portrayed by Mercedes Lambre.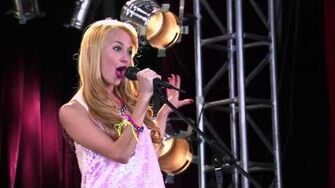 Ad blocker interference detected!
Wikia is a free-to-use site that makes money from advertising. We have a modified experience for viewers using ad blockers

Wikia is not accessible if you've made further modifications. Remove the custom ad blocker rule(s) and the page will load as expected.