Luca Cauviglia
Played by Simone Lijoi. Francesca's brother and manager of the 'Restó Bar', a bar next to 'Studio 21' where the guys usually hang out. His strong personality combined with being almost 7 feet tall makes everyone think that Luca has a bad-temper but, in time, they will realize that he's got a good heart.
Luca is very ambitious and he knows that he can take advantage of the talent of the guys from 'Studio 21' to attract customers. He converts his restaurant into a 'Restó Band' to present live shows and, if possible, sing his own songs because, apart from running the family business, Luca would also like to become an artist, like his sister.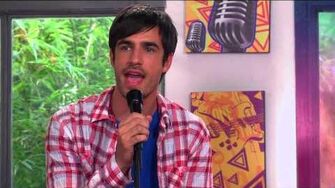 Ad blocker interference detected!
Wikia is a free-to-use site that makes money from advertising. We have a modified experience for viewers using ad blockers

Wikia is not accessible if you've made further modifications. Remove the custom ad blocker rule(s) and the page will load as expected.